Driveways & Patios Destin, FL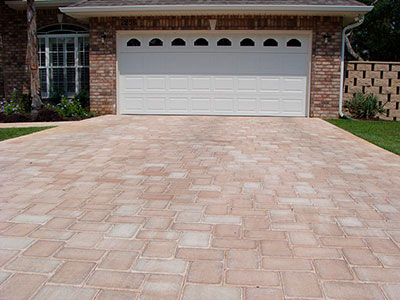 We at Pensacola Pavers rank as among the top hardscape specialists in Florida. We have been creating topnotch driveways and patios for commercial and residential properties across Destin, Pensacola, Navarre, and other cities in the state. With our solid list of projects that include some of the most exquisite patio and driveway features in the areas we serve, we are easily your top option to build these outdoor structures.

Give us a call today, and we will discuss with you how we can create stunning and durable driveways and patios.


Driveways that Mesmerize
There's nothing more uplifting than entering your property through your stunning driveway. These days, driveways don't just provide access in and out of properties but also serve as aesthetic enhancements that command attention.

Our designers and installers can team up with you to create a one-off driveway that you will surely love. We will create a custom design plan based on your working budget, design preferences, and the specific area that the driveway will cover. We will give you free rein on almost everything – theme/design, materials to be used, and even the actual size of the driveway.

We guarantee you that your driveway will be exceptionally durable, functional, and stunning to make your financial investment truly worth it.


Elegant Patios that You Will Enjoy and Be Proud of
Among all possible property improvements that you can have is a patio. This outdoor living amenity will not only serve as an extension of your living room, it can also add market value to your property. Moreover, a patio can easily boost your outdoors' appeal and make it more inviting for your guests.

Driveways & Patios Destin, FLThe great news is that one of our areas of expertise is in creating gorgeous patios that have all the amenities that clients could possibly need. Whether it's a fountain, some designer lounge chairs, an outdoor sofa set, or exquisite sitting walls around a fire pit, rest assured that we can provide all your needed patio amenities.

Among the things that separate our patios from those created by other companies is that ours are elegant and have unique designs that complement with the other features in our clients' property or home. Our patio creations are also very functional and sturdy since we only use premium pavers and materials. Each patio we build can last for several decades and offers so many benefits. In fact, our completed patio projects are some of the best designed and built outdoor features in Destin and surrounding areas.


The Best Driveway and Patio Installation Services
Property owners in Destin, FL and other cities that we serve are assured of only fast and quality installation of driveways and patios. Aside from a lengthy list of successfully completed projects, we are also licensed and certified installers of pavers. We employ expert masons and designers who can capture your ideas and desires and translate them into an extraordinary patio and a driveway that will make your property even more exceptional.

We promise to provide you with results that will justify every cent that you will pay for. With us, you're assured of life-long benefits from the patio and driveway that we will install on your property.

Please dial 850-393-9705 today.