Water Features Navarre, FL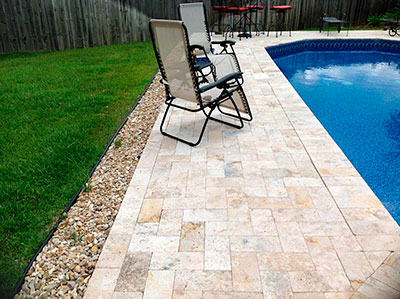 Water features are popular additions to outdoor spaces because of their aesthetics and health benefits. They make outdoors more attractive and perfect spots for rest and relaxation. In fact, most of our completed landscaping projects in Navarre, Destin, Pensacola, and other cities in Florida include installation of one or two water amenities.

Let us also design and build your desired water features by calling us at 850-393-9705. We have the experience and expertise in creating these awesome additions to your outdoor area.


Expert Water Feature Builders
We at Pensacola Pavers have been offering professional waterscaping services to residential and commercial property owners in Navarre, FL and surrounding areas. Our years of experience in this field of landscaping have helped us become experts in creating the kind of water feature that our clients need. They can hire us to design and build a typical pond or create a nature-like outdoors complete with waterfalls, streams, and ponds. We can also help them identify the perfect location for their chosen water features.


Our Recommended Water Features
The versatility of our design and build team allows us to work on practically every type of water feature, such as pools, ponds, waterfalls, birdbaths, and many others. But before we build one in your property, we first conduct an ocular inspection of your property and consider several factors, such as the size of the area, the existing amenities, and your preferences. We also consider your financial capability when working on your desired water feature. This will ensure that our proposed amenity is within your budget range.

Meanwhile, the common water features that we recommend for our Navarre clients include:


Ponds. We can design and build different types of ponds, depending on our client's preferences. We recommend koi ponds for property owners who enjoy taking care of beautiful koi fishes. Other popular options include rock ponds and garden ponds.


Waterfalls. These features will not only make your outdoor area more attractive but also relaxing to be at. The sight and sound of flowing water can help people to be more relaxed and even provide therapeutic effects. We usually install a waterfall near a patio or as an added feature in a pool area. We can also create wall waterfalls and pondless waterfalls. The pondless type is highly recommended if you want to improve the safety in your outdoors.


Fountains. We can install tiered fountains or make customized designs that will complement with other water features in your property. For example, we can add fountains in your pool to enhance its aesthetic appeal or install a free-standing fountain in the middle of your garden to add more charm in the area.


Artificial Streams. We recommend adding artificial streams if you have a large outdoor area. They are also great additions to waterfalls and ponds.


We Design and Build Unique Water Features
Since we've already created numerous water features for our clients in Navarre and surrounding areas, we can guarantee quality craftsmanship and uniqueness of each feature that we design and build. We also have the required tools, skilled manpower, and other resources to successfully complete your desired water amenities.

Please call Pensacola Pavers today at 850-393-9705.